At Virtual Elementary School (VES), our top priority is developing accessible online courses, materials, and activities to optimize each student's learning experience! Our courses have always been available for students to access from anywhere around the world, but online accessibility at VES means so much more than an internet connection. For us, accessibility means ensuring that each of our students, regardless of their needs, has the necessary tools and strategies to complete educational tasks with independence and efficiency. The VES team is constantly reviewing and refining the design of courses with accessibility in mind in order to create a virtual learning environment that is rich in supportive educational tools and features.
Virtual educational tools are transforming the ways that students learn by increasing engagement, facilitating personalized learning, and providing an immersive experience in every subject area. Let's take a closer look at some of the educational features that VES uses to enhance the accessibility of online learning for all!
Graphic Images & Animations
In each course, VES uses teachable images and animations to enhance the student's experience on a visual level. These images range from world maps to step-by-step science experiments to storybook graphics—all with the intention of maximizing the student's understanding. For students with visual impairments, VES has created descriptive alt-tags that explain exactly what is happening in teachable images to ensure that each student has equitable learning opportunities. Images can also help students orient themselves in the content and may be useful in meeting the needs of different learning styles.
Animations are short, repetitive clips that can be powerful visual tools in bringing complex topics to life. These can be beneficial in math lessons when students are transforming shapes, in language lessons when adding prefixes and suffixes to words, and in science lessons when exploring concepts like the behaviour of particles in properties of matter. VES animations are also accompanied by cohesive writing to thoroughly explain the animated illustrations and meet accessibility needs.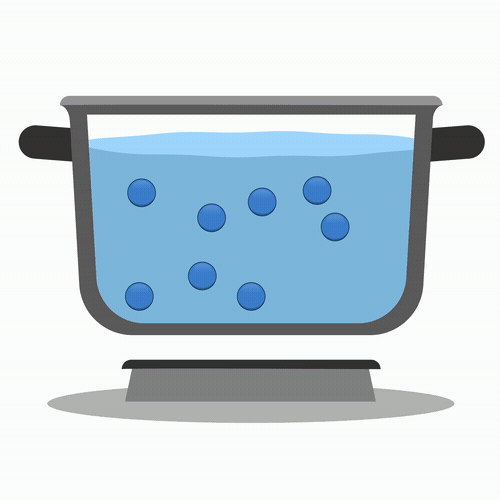 Check out this animation of particles heating by conduction in a pot of water on a stove from our Grade 7 science and technology course. View the full course description here.
Videos
Videos are another great feature in online learning that create engaging sensory experiences. Especially at the elementary level, videos can yield better academic and personal outcomes. Videos can boost retention by explaining concepts in several ways and demonstrating interaction skills that students need in their day-to-day lives. All videos are close-captioned with transcripts that follow along with any speech elements. They're also equipped with audio description where necessary to support students with visual impairments. Some courses include videos with interactive components where the videos regularly prompt the student with questions and encourage mastery learning.
Assistive Technology
Assistive technologies are specialized tools that support learning through increasing functional capabilities of students. Let's explore ReadSpeaker as an example!
ReadSpeaker is an assistive technology feature that is directly integrated into each course offered by VES. ReadSpeaker provides lifelike text-to-speech application that benefits auditory learners, those with visual impairments, students with low reading skills, and English Language Learners (ELLs). ReadSpeaker highlights the sentence as it is reading and shows the exact word being read in a different highlighted colour to make it easy for students to follow along.
ReadSpeaker also has unique features in the Grade 4-8 French courses to support students in learning a new language. Throughout a lesson page, words in sentences often flip between English and French. ReadSpeaker offers a seamless transition between French and English words, helping to teach students the proper pronunciation of French words.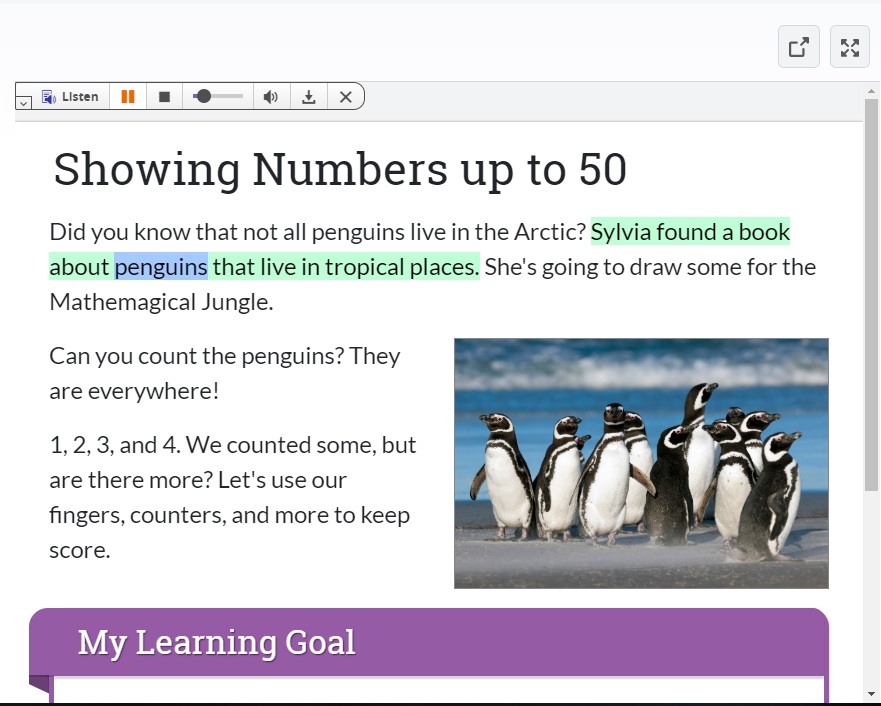 Through developing educational technology tools, VES makes accessible learning an intentional practice to offer each student a chance to showcase their capability. Elementary students have unique needs that can be met with different tools to allow them to take ownership of their learning and maximize their experience. We want you and your learner to feel supported and empowered in succeeding in online education!
To read more about the VES Accessibility Policy, visit our Accessibility page!